Description
Stop Allergy Flare-Ups and Night-Time Congestion with Our BedCare™ Mite-Proof and Bed Bug-Proof All-Cotton Pillow Cover
If you suffer from allergies or if you regularly wake up with congestion and a stuffed nose our BedCare™ All-Cotton Pillow Protector Covers will give you relief to help you feel better and sleep more comfortably. The most doctor recommended way to reduce dust mite allergen exposure and get protection from bed bugs is to cover your bed with allergy proof protective covers.

Our BedCare™ All-Cotton Fabric is Certified Friendly™ by the Asthma & Allergy Foundation of America. 
Here's why Allergen Pillow Protectors are Important:
Your bed is a breeding ground for dust mites. As they eat dead skin cells, they leave waste behind. You can't see it, but you can breathe it. Some people are quite allergic to dust mite feces.
Here's the good news…
The BedCare™ All-Cotton pillow protector covers eliminate exposure to dust mites and other allergens.The cotton barrier fabric is woven so tightly that only air can get through. The mean pore size is just 2.6 microns.
This means the dust mites and other allergens in your pillow will no longer be able to affect you.
As an added bonus, this all-cotton allergen pillow protector is also bed bug proof. If you are trying to eliminate bed bugs or prevent them, then this pillow cover is a must have.
When you start sleeping on the BedCare™ All-Cotton pillow cover, you will notice immediate allergy relief. You will sleep more deeply, breathe more freely and feel better when you wake up.
Since the pillow cover is made from 100% pure cotton, it does not store or radiate heat like other covers. The fabric breathes well, so it is comfortable all night long.
The BedCare™ All-Cotton pillow cover is not made in an overseas factory. It is manufactured right here in the U.S.A. Every cover is hand inspected to ensure quality and comes with a Lifetime Warranty.
BedCare™ All-Cotton fabric has 'Confidence in Textiles' certification in accordance with Standard 100 by OEKO-TEX®.
The BugShield® Two-Part System
There are two parts to the BugShield® system: the Zipper-Lock and the Bug Blocker.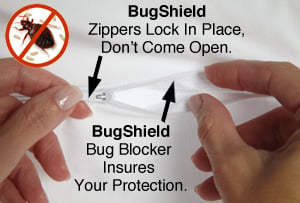 The BugShield® Zipper-Lock is an auto-locking zipper that locks the zipper slide in place so that it will NOT backtrack to leave small openings that bed bugs could sneak through. The zipper cannot accidentally open. To open the zipper, the zipper tab must be pulled.
The BugShield® Bug Blocker is an added barrier that closes the last inch or so of the zipper from below to create a fabric shield under the zipper closure to doubly ensure that bed bugs will not be able to get in or out of the encasing.
All of our BedCare™ encasing fabrics have been tested by an independent lab and the results show that bed bugs cannot pass through these fabrics or bite through these fabrics. Bed bug eggs cannot pass through the fabric or zipper either.
Therefore bed bugs outside the encasing cannot get through to your pillow to hide or lay eggs, and any bed bugs inside the encasing cannot get out to re-infest your home.
By covering your bedding with zippered bed bug-proof covers, you are protecting the investment you have made in your mattress, box spring, pillows and comforters because you will never need to dispose of them due to bed bugs.